Posted at 24 June 2019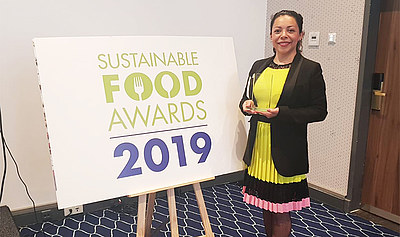 Diana Food was awarded of the runner-up Prize at Sustainable Food Summit 2019
In last April, Diana Food participated to the Sustainable Foods Summit 2019 organized by ECOVIA in Amsterdam. Diana Food applied for the European Sustainable Ingredients Award recognizing the best sustainable initiatives in the food industry regarding positive environmental or social impact.
The results were delivered on June 13th and Diana Food was proud to receive the runner-up prize of the 2019 Sustainable Ingredients Award for its Authentic and Intense carrot juice powder. This award recognizes on one hand Diana Food's expertize in agronomy allowing to locally source the best varieties of vegetables to optimize the taste profile of its end solutions and on the other hand, the state-of-the-art technology enabling to deliver a high performing taste solutions using less raw material.
The organizer underlined the environmental impact of this ingredient based on a solid Carbon footprint evaluation.
About the range
Consumers are well aware that vegetables are essential to optimal health and nutrition, and a key driver for a balanced diet. In response to this trend, Diana Food has recently introduced a new generation of premium juice concentrate ingredients. These ingredients provide an enjoyable eating experience from real food by offering an intense and true-to-nature taste.
Diana Food has launched its new range of authentic and intense natural vegetable juice ingredients in late 2017. This ground-breaking new range provides high intensity garden-picked taste experiences. These solutions go through selective raw material and varietal screening in order to target the best potentials of vegetable taste and deliver customers with a truly authentic and close-to-raw taste profile. Currently available in onion, leek, garlic and carrot and developed on liquid and powder forms.
You want to know more about the range, click here